Select Page
Posted by Michael Koh | Nov 26, 2022 | ACC, Soccer, Sports, UNC Sports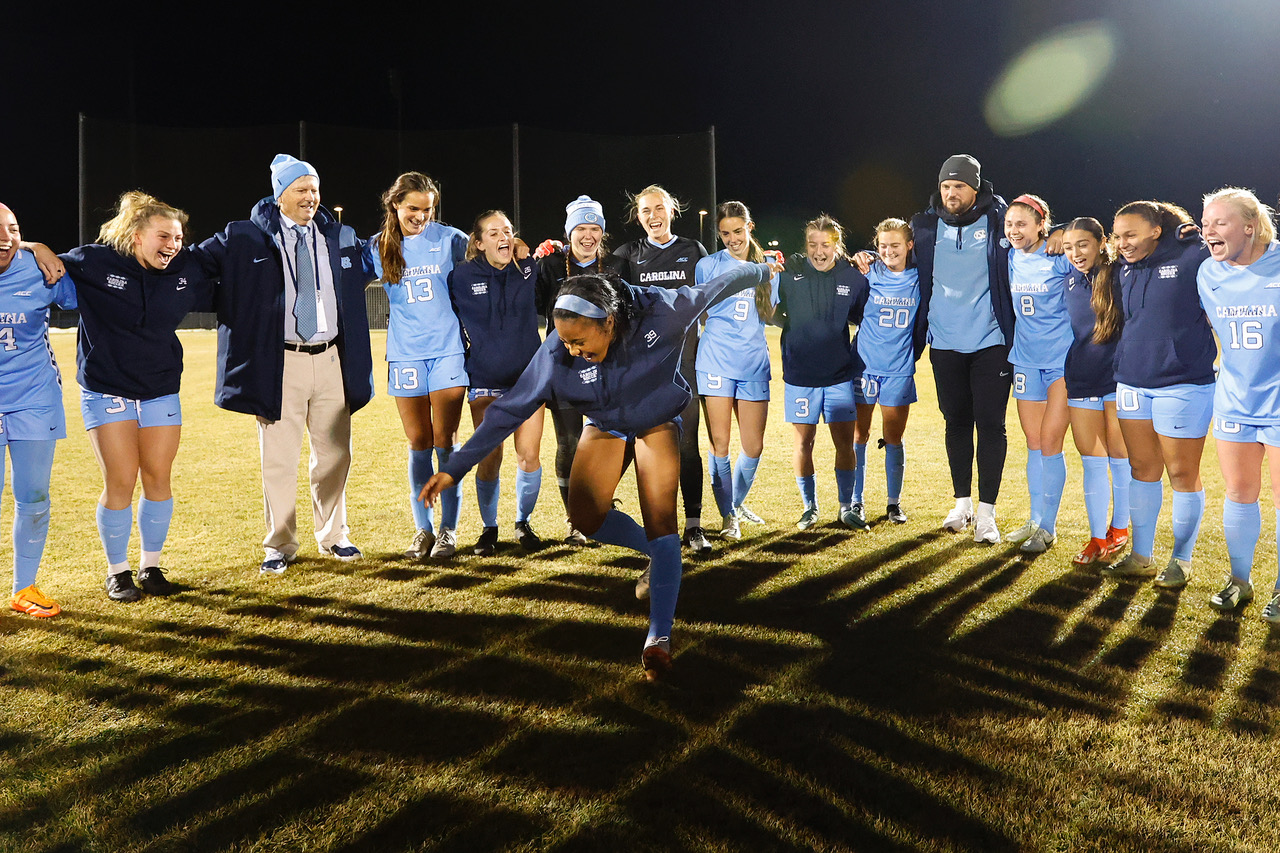 The UNC women's soccer team is bringing a party back to Chapel Hill. The No. 2 seed Tar Heels went on the road and defeated No. 1 seed Notre Dame in the NCAA quarterfinals Saturday evening, clinching the program's fourth College Cup appearance in the last five seasons and 31st overall.
COLLEGE CUP BOUND!#GoHeels x @WellsFargo pic.twitter.com/4Q0Xkjfseh
— UNC Women's Soccer (@uncwomenssoccer) November 27, 2022

Carolina took the lead in the 22nd minute on redshirt freshman striker Ally Sentnor's fifth goal of the NCAA Tournament and doubled it less than two minutes into the second half on a goal from Talia Dellaperuta. Saturday was Dellaperuta's third straight match with a goal.
UNC then had to endure a withering attack from the Irish, who fired a total of 12 shots in the second half alone. By comparison, Carolina only allowed 22 total shots in its three previous NCAA Tournament matches. But for all of its attacking, Notre Dame could not find a way through Carolina goalkeeper Emmie Allen. Allen made three saves in the second half and six on the night, a career-best performance for the redshirt freshman from High Point. Allen has now made 13 total saves in four NCAA Tournament matches.
Carolina is now 31-2 in program history in NCAA quarterfinal matches and 12-2 in that round since the tournament expanded to 64 teams in 2001. Saturday's match was the first quarterfinal in a true road environment for the Tar Heels since winning at BYU in 2012, which coincidentally was the last time Carolina won the national championship.
Now, UNC will return to the relatively familiar confines of WakeMed Soccer Park in Cary. Awaiting the Tar Heels is a familiar opponent: No. 1 overall seed Florida State. The Tar Heels and Seminoles have already faced off twice this season: Carolina won at Tallahassee in the regular season, and Florida State topped UNC in the ACC Championship in Cary. Their next meeting, scheduled for December 2, will be the first time since 2018 the two teams have met at the College Cup. Florida State defeated UNC 1-0 in that season's national championship.

Featured image via UNC Women's Soccer on Twitter
Chapelboro.com does not charge subscription fees, and you can directly support our efforts in local journalism here. Want more of what you see on Chapelboro? Let us bring free local news and community information to you by signing up for our biweekly newsletter.
Share:
Chapelboro.com and WCHL, equal opportunity employers, are dedicated to providing broad outreach regarding job vacancies at the station. We seek the help of local organizations in referring qualified applicants to our station. Organizations that wish to receive our vacancy information should contact WCHL by calling (919) 933-4165.
FCC PUBLIC INSPECTION FILES
© Chapelboro
WCHL
University Place
201 South Estes Drive, Suite C6a
Chapel Hill, NC 27514
(919) 933-4165 Office
© Copyright 2022 Chapelboro.com. All rights reserved.